Jul 31, 2012
The Adventures of Camping at the venue and sending Miyavi off to his terminal~
Sorry for the long wait! I have been busy with some work and dying from muscle ache!
Now onward with the report!
On the day of the gig, I've woken up a little late due to unable to sleep after the meet and greet. Alot of feelings went through my mind and it was hard to get some sleep due to the anticipation of the upcoming show.
So, after getting ready I zoomed off to the venue, getting lost because Kuala Lumpur roads are one of the most confusing + the signboards that will troll you to no end and eventually reach after 3 hours of driving (when it was only suppose to be 45 minutes).
Guess what? I'm among the first few in the line and most of the people who are there are those who were at the airport on Monday morning! XD
the first two that arrive; since 10am in the morning!
Yeap, that's us again! among the first in the line!
We sat there, chat away and greet those who came after and made friends which we realized we're all connected through the social network! It was really fun to be able to chat with them and discuss about other related topics!
Afterwards, around 2pm, Miyavi came! We greeted him as he went past through us to enter the venue to do the sound check! We're only separated with nothing but the queue bar (the one with the blue tape) but no one rushed to went after him. we just stood up and waved (and some took videos and pictures of course!) from behind the blue tape. We heard him did some practice and when he played "What's my name?" we actually shouted "Miyavi!" each time he sang the lyrics and he heard us! and he praised us; "Awesome guys!".
The line eventually starts to build up after 4pm (in which is understandable since those who had done with school and college are able to go out after 3-ish).
this is the crowd around 5-6pm and everyone is actually waiting for the merch items to be ready to be put up. Miyavi's company wasn't expecting that there will be alot of people that would queue up for merch and the best part? his black t-shirt were sold out but his white Day 1 t-shirt didn't get much attention since the design doesn't appeal as much as his MYV's t-shirt.
black t-shirt
the white t-shirt
(both photos taken from meev's instagram)
each cost RM100 (should be around $30+ (?) )
and towel! cost RM60 ( should cost around $20+ (?) )
The crowd eventually are up till the outside road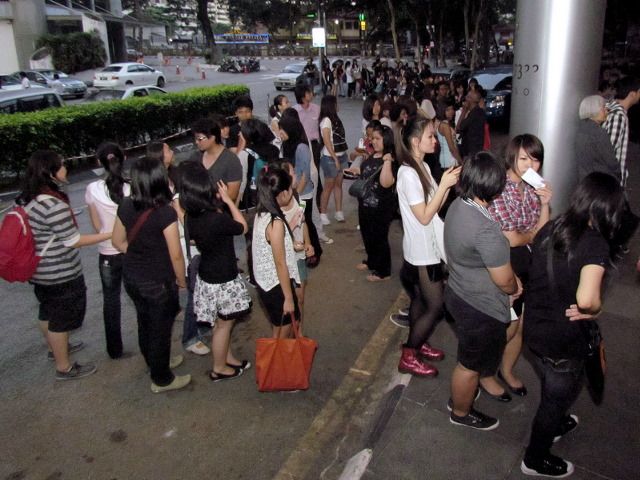 ( photo are credited to Rentak Sejuta read their reports
here
)
a few minutes before the door is open! (credits goes again to Rentak Sejuta) and you can see the crowd are really conquering the floor area!
andddddd We're inside!! This is how the stage looks like from the VIP section
and if you asked, yes, that's our group! We're really wayyyy upfront! (credits to friend; anney's photo!)
(credits to: Rentak Sejuta. thx for the picture!!!)
the whole venue from the stage's view. LOL the whole group is in the picture! and i had my hand raised while i jumped like a crazy motherfucker! (picture from meev's instagram taken by his crew guy)
The setlist (Thanks to Ethel and Pammy<3 )
What's My Name
Universe
Survive
No No No
YEAH! C-AHA
Shelter
Selfish Love (Acoustic)
I love you, I love you, I love you and I hate you (where is your heart).
We Love You (Acoustic)
Gravity
Strong
Day 1
Futuristic Love
*ENCORE*
What a Wonderful World
R U READY TO ROCK?
(not sure if it's in sequence but the person copied it from the DJ setlist, so yeah > w<)
I literally cried when he performed "We Love You" because it's a frikken old song and I never thought he'd even bring that here! But I recovered fast and sang together with the rest of the crowd. and there's a Singing battle that Meev always love to do with his fans during "A-Ha" song! It's fun!! he kept hyping up the crowd! <3
Fancam(?) Media (?) of A-Ha
However, there's a little down side during the gig. Since this is the first Jrock musician that came here, the crowd didn't know the ethics and such and the culture here have their phone and cameras raised up when Miyavi performed. So yeah, it got him pissed and had him scold one fan who had his phone pointed up front to Miyavi's face. Miyavi eventually smack the phone off the guy's hand when he had scold the guy to stop recording and just enjoy the music. (well, IMHO people that follows Jrock culture should know by now recording pissed the musicians a damn lot!) and another event is when Miyavi is performing Gravity, some people are so effing rude by not shutting the fuck up and learn to respect. That got Meevs pissed off since he was singing the lyrics with anger. What adds to the oil to the fire, there were someone who were so drunk and starts to harass other fans. But the bouncers act fast and kick the guy out before he ruin the live. Applaud the quick act to the management and security!
Regardless of all the things that happened, we had a good time and hope Meevs had a good time too!
I cried a lot and couldn't stop when Meev left the stage after the encore! And there are reporters and news people who were taking pictures of the crying fest! Ahaha, I hope I won't find pictures of me crying!
Most of us have to left early but those who stayed back with VIP passes and Invitation are able to meet Miyavi after the show and had the opportunity to party around. Lucky them!
----Next day skip!---
Well, not really! I could barely sleep and decided to do research on Miyavi's flight back to Japan after getting a hint from the organizers. I spam post to the fanpage to call those who are able to go to bid him goodbye.
His flight was at 14:30pm and so, we all camped since 10pm at LCCT. At first, I thought there are only going to be around 5 people since there's not much response from the facebook event page but turns out there are 7 people (my friend who woke up late eventually drove all the way from her house to the airport; which usually takes up 1 hour, reached at record time 20 minutes and 5 minutes before Miyavi and his crew went up to their Terminal gate. I hope she didn't get a speeding ticket for that!)
Picture of the early birds! the two girls at the sides are all the way from Melaka! Salute you girls!
By the time it was around 13:20, Miyavi and his crew eventually showed up at the airport and we let them do what they need to do while we wait near the terminal gate as we do not want to bother. He looked tired by the way and probably didn't get enough sleep as he went late to bed last night to entertain the people who are at the venue place last night. (i think he slept at... 7am??? and woke up at 10).
By the time they are ready to go off, we called out his name and waved, saying goodbye. We thought he would walk off since he was close enough to the gate but he stopped in slight shock when he realized we were calling him and handed his bag to his crew. He turned back and came to us, reaching his hand out and thanked us to see him off. I quickly cut to the chase asking if we could have a group photo but he was hesitant since well, his management is strict after all and he had to ask his Dragon Lady if he could. We asked and explained that we wanted a group photo since we know they are going off and doing one by one is such a hassle. The lady agreed and we thanked her and request for Motokatsu Miyagami to join the picture as well (the drummer that tag along to Malaysia's live. He is from Ace of Spades!!).
andddd~!! *drumroll* the picture!!
He is so awesome still!! and the Drummer is so Kakkoi! <3 he is being all bashful since no one really paid attention to him for the first few days. I saw him being all alone on the Monday's event ; w;. You bad bad people! Don't you know the guy's a legend?! After all of that, we shook hands again and watch him off, and he kept turning back, waving to us until he finally disappeared from our view ; w;.
As soon as we turned around, we were fangirling, hugging each other and the crowd were giving us weird looks but smiling, as they knew that were so super happy to meet someone! Ahahah, it was embarrassing but we didn't care! All of us then parted ways, saying good bye to each other, smiling from ear to ear!
Well, that's the report I could give to you guys :D If you want vids, just look up on Miyavi Malaysia or Miyavi KL or Miyavi Kuala Lumpur. you will get alot of videos from there!
Labels: miyavi
Ike at 7/31/2012
Part 2: Adventures of Meet and Greet with Miyavi
Look how much items we managed to get him sign!! (not including my cd tho!)
This were done by 5 people who queued twice in the line just to get him sign for more stuffs. Since the rules said we're only able to get one sign per entry, so we went crazy and made a mad bee line to the end of the line. LOL.
Silly thing is that we were the first in line and the last in line through the whole event and he sort of remembered us since we're also the ones whom welcomed him at the airport!
One of our non-fan friend was so silly though! She was spazzing so hard, regardless that she wasn't a fan! It was funny because Miyavi kept asking her, "Are you okay?" because she was like "Please, sign.. please! I'm going to faint if I stay here longer!" because Miyavi was staring at her when she came for the second signature. Well, she was slightly high because she just had some red wine at the hotel and came running straight to the meet and greet to help her friend to get more signatures on her CDs. LOL. And Miyavi literally laugh after she left the booth because she was spazzing hard and went to glomp her friend because her face was so red!!
After the M&G, everyone literally chased after him as we walk off to go back to his hotel. Its fun to watch everyone running after him, taking the escalators to chase after Miyavi!
Btw, Picture and Vids time!!!
The long long line before the organizers divide us into Vip and non-Vip lines (VIPs are those who bought the Gig tix and the CD). the girl holding the picture of Miyavi actually drew that potrait! She has awesome skills!
a fan manage to get a picture of her identical tattoo with Miyavi's during Meet & Greet! And she's really cool!!!
one of the times when he took his sunglasses off <3
Links!!
He arrive with style:
M&G (all when he is speaking) part 1
M&G part 2
M&G part 3 (final)
Labels: miyavi
Ike at 7/31/2012
The adventures of camping at the airport while waiting for Miyavi's Arrival.
It all started when the organizers told us about his plane schedule and we all planned a trip to meet with other Co-MYVs. From my group, there were only 3 people including me.
We literally stayed up the whole night after from break-fasting until 3-ish to complete our welcome placard. (We had a hard time to determine which type of strokes to copy and argues alot about it XD) :
(yes, we got this signed as well!!!)
When we were busy arguing we realized that some Co-MYVs had tweeted / fb-ed that they have arrived at the airport and to find that they are the only ones there. So, yeah, we decided to wrap up and get ready. By the time around 3-ish, we made our way to the airport which took us around 1 hour.
As soon as we reached, we made our rounds, looking for other Co-MYVs and eventually found them all at the Starbucks :- which is the next best spot to hang out as it is so close to the International Arrival Hall (and I shit you not that this is the only airport that doesn't have any VIP exits; only one way out. lol so we're damn lucky!)
(just chillin' at starbucks)
By the time it was 5.25am, our group turns out to have no more than 10 people only (8 girls 2 guys)! (but it's understandable since it's a non-holiday Monday and most of the people couldn't take a leave!). A group was so lucky to arrive in time from KLIA; which they thought where Miyavi would arrive at thanks to social network.
The anticipation was killing us when the time for him to step into the said hall because we're all unsure if the info we received from the organizers were right. To add to the matter, we had some securities trolling us (in which, were his body guards) saying that there's no such person arriving at the hour! But we had our laughs when he gave us a thumbs up telling us that Miyavi indeed is making his way out!
One of the hints was because of the guitar case that we saw when one of his crews went pass through us! We're like! It's Miyavi's guitar case!!! LOL and we're like he is hereeee!! dkfbakfblakbdksabfksjbfklasbdf
I was partly hyperventilating because I'm not sure what am I suppose to do when he is to step out!! but any ways!!! I'm going to post up some pictures and links to videos of his arrival XD.
Funny as hell, we're all star struck and couldn't make much noise! We're stunned cuz we can't believe it!
and some pictures when we manage to catch up and one of the Co-MYV manage to get him to give out his autographs!
(lol, my picture of him which I went on derp mode and couldn't do anything but took one picture and stare at him)
We all manage to get a handshake and damn, his grip is firm! <3
alright! will update about the acoustic session tomorrow and probably am able not to be so derp during the meet and greet session!
Labels: miyavi
Ike at 7/31/2012